(Damnit, did I remember to put "animated erotic MySpace gifs" on my Official List of Interests? Because if not, I know what someone's doing when they finish writing this
pooooossstttt!
) Happy Labor Day, everyone! Even though it's a holiday, I feel shitty not posting because we kind of dropped the ball last week. Thus, this week's Queer Abby will run on time, as scheduled today. DAMN YOU, JEWISH
AND
CATHOLIC BACKGROUND. Guilt. Guilt
everywhere
. Although I wouldn't celebrate too soon if I were you, because I
am
going to take advantage of today's small audience by preluding Queer Abby with two period stories. So, Happy Graphic Tuesday, everyone. Happy Graphic Tuesday.
1.)
So, yes, I started raggin' today, as you do (and on the
Lord's
day!), and I have bad cramps, which isn't very typical for me. Unfortunately, taking care of those cramps is almost impossible for two reasons: 1.) Over-the-counter pain relievers make you puffy, and puffiness would completely mitigate the effects of the organic, holistic and very spiritual diet Tulane Chris and I recently put ourselves on (Klonopin, cocaine and ice water until you're camera ready) so nuts to that; and 2.) I'm dangerously low on money again, so I can't just skip out to CVS and buy a heating pad like it's Mardi Gras.
I was laying in bed this morning feeling like crap when I remembered that my laptop gets absurdly hot when it's charging. Thus, I went ahead and made the medical decision to spend the majority of today laying in bed with my laptop resting directly on top of my major reproductive organs. Although affective (and how!), I started getting nervous a few hours ago that my laptop might be emitting radiation or something, so perhaps putting it directly over my ovaries was a "poor decision". So what was my solution? Pulling my t-shirt down to act as a barrier. Which means that for a solid two hours, I honestly thought that in the battle of radiation waves v. t-shirt,
t-shirt
would win. I find myself saying this more and more, but I swear to god I'm actually an intelligent human being.
2.)
UGHHHHHH
. I bought a big variety pack of the wrong kind of tampons last month (Tampex instead of Tampex
Pearl Plastic
) and now I have to be "fiscally responsible" and "use them" because I'm "poor" and life is "hard". I refuse to take the blame for this one, however, because if tampon companies cracked the code that women don't like shoving compacted dry cotton and particle board up their snatches 25% of every month and they mastered the technology to make that a non-issue, why do they continue to sell the old, fork-up-the-snizz model? What old woman is sitting there in the Bible Belt like, "Oh, you can keep your newfangled, plastic Devil tampons, thank you. I much prefer the ones that kind of disintegrate halfway through putting them in because Christ had to suffer too."? Assholes.
And that concludes this week's ~*VaGiNa TaLk WiTh MeG!!!*~ (Except, not really. I talk about vaginas later. Sorry about that. HAPPY LABOR DAY!)
Dear Queer Abby,




I'm from a small town, and so when a bunch of my friends and I went off to the same big college last year, we stayed close. I'd always been friends-only with most of the guys until that point, but breaking up with my longtime boyfriend started to change that. Recently, I've been hooking up with one of those guy friends on a slightly-less-than-semi-regular, drunk only basis. We also drunk texted on nights when we weren't partying together. There were no commitments or declarations - neither of us are interested in dating or anything else - and we never went very far, but last night that changed. The problem is that I didn't enjoy anything we did... Enough to the point that I'm not interested in repeated it AT ALL. And it wasn't just a flop night or anything, going further just made me realize that I'm a lot less interested in him than I thought I was. My question is: how can I end this/avoid it ever happening again? I'm both awkward and shy and I don't want to come off sounding like an asshole, plus I prefer to avoid confrontation at all costs. I don't want to lose this guy as afriend - we've known each other forever and he's always been a great friend, plus he's roommates with my roommate's boyfriend so I'll definitely be seeing him on a fairly regular basis, and I have NO IDEA what to do. Please help!!!




Sincerely,




Starting to Feel Regretful...
There really aren't a lot of great ways to deal with a situation. I mean, it's going to be awkward no matter what, BUT, assuming he's generally level-headed, it can definitely work out so you guys can remain friends as long as you handle this with a little finesse.
I'm a fierce advocate of honesty, but telling him, 'listen, that was a mistake… and I don't want to make it again' isn't necessarily what he wants hear, even if it is the truth. However, I am of the mindset that you can still be honest in this situation without saying a word, as long as you're not leading him on, being a tease or hooking up with him just to avoid the awkward. Basically, if you want to stay (just) friends with him, then simply start acting that way… you didn't have to have 'a discussion' before you started messing around right? I'm guessing you just kind of did it. No reason that can't work the opposite way.
So, for now, just keep hanging out with him as it's called for. Be friendly, considerate, etc. but don't get yourself in a situation where that can happen again. Make sure, even if your roommate stays over there, you go home at the end of the night; don't hang out with him alone, especially while drinking; don't entertain his advances; don't sit too close, suggest other girls he might be interested in, etc etc. If someone continues to persist, despite unambiguous signs that you're not interested, well that's their own fault, and they're inviting that really awkward pride-crushing conversation, but hopefully that won't be the case here…. And in the event he asks directly about what happened or why things changed, then you owe it to him to at least be as honest and direct as saying, "I just decided/realized that's really not the kind of relationship I want to have with you," and then chalk it up to a experiential-lesson in the value in avoiding these uncomfortable situations in the first place. Hopefully, it won't to come to that though.
OR you could turn the tables and ask him to do some really fucked up shit in bed so he'll be stuck with the burden of finding a non-confrontational, friendship-preserving way to break it off, not you. Here! I'll even get you started! You could ask him to:
- Pee on you
- Let you pee on him
- Poop on you
- Let you poop on him
- Film yourselves fucking in Nazi uniforms with the Spice Girls' "Something Kind of Funny" on repeat in the background
- Dry hump in mascot uniforms
- Call you "Professor McGonagall" upon climax
- Marry you, so you can finally have sex
- Fuck to the beat of "Janie's Got a Gun"
Now, true, you kind of run the risk of him being into whatever you end up asking him to do, but in that case, just act really disgusted, tell him you were joking, run out of the room and forgive him a few days later. Not only will he respect you for being able to get over it, he'll be too embarrassed to ever hook up with you again. Truthfully, that might be even better. God I'm good at this. This shit should be syndicated.
Queer Abby,




A little backstory - I've had a teenage-girl-like crush on a distant friend for about a year. I met him at school, and he graduated about two years ago, but still lives nearby. He's actually not so much my friend, as my friend's friend. I've never spent time alone with him, and have always felt a little awkward about texting him. But whenever we've hung out together, at a party or the bar, we had chemistry. Honestly, I NEVER expected it to turn into something real and it wasn't even that serious, but it was fun to have a crush, blah, blah, blah.




Enter this weekend's events. A group of us went out camping for the weekend, and said friend fell from a very high height onto his face. I was one of two people to see it happen, and the first person to reach him. I ended up kneeling next to him for the next half hour while we waited for the ambulance. Now, I don't know if you've ever been with someone when they are seriously injured, but it's a pretty intense emotional experience. I felt entirely responsible for his life, regardless of the fact that I have absolutely 0 medical training. By the end of the 30 minutes, I found that my crush had gone from zero to hero.




He went to the hospital that night and we later learned that he had a broken jaw. Someone took him home from the hospital, and I drove his car back to his house from the camp site. Coincidentally, I happen to be the only one of his friends who's currently living nearby. (I'm at school for the summer, and everyone else has yet to arrive back on campus. His parents live a few hours away, and everyone else lives in Jersey or some equally distant place.) Therefore, I've been trying to help take care of him. I've taken him to doctor's appointments, brought him movies, etc. Long story short, I'm spending a lot of time with him, which is great. I'm getting to know him better, and I've gotten the impression that he's not entirely disgusted by my presence.

My conflict comes in because I don't want to complicate his situation. I feel like a broken jaw is probably enough to deal with without having to also worry about having to figure out a relationship. And I want to be there for him. But at the same time, I'm having trouble drawing the line between good friend and girl with a giant crush. It's hard for me not to read into every little thing (I get butterflies from a text), when because of the situation, it probably means nothing more than he's grateful.




I'm worried that I only feel a connection to him because I was there when he fell. How do I know that I'm not greatly exaggerating my feelings for him because of what happened? How do I keep helping him without also going crazy? And how do I tell the difference between what's him being interested and what's him being thankful?




Sincerely,




Dead from complications
Well you liked him before, so I wouldn't be too worried that your feelings are completely disingenuous. There are a million reasons and circumstances under which we fall for others; I don't necessarily think one is more or less valid than any other.
That said, play it cool for now. Obviously keep helping him out, because a) that's awesome of you, b) he'll definitely be grateful and thing you're great for it (especially if it doesn't seem like you have ulterior motives) and c) as you mentioned, it's a great way to get to know him better and figure out if your feelings are exaggerated by the circumstances. But, for now, don't worry about discerning his feelings for you or vice versa. That will sort itself out with a little more time and you don't want to complicate the situation by pressing the subject or forcing his hand. I'm not saying you should act totally disinterested or anything, but for the time being just focus on doing this for him as a friend (without acting like a mother or nurse in the process) and responding to him in a way that's consistent and appropriate given how he's treating you, know what I mean?
Now, if you guys are still hanging out a lot, you still really like him and he's not showing interest in anyone else in a few months time but things haven't progressed, at that point it might be worth revisiting whether or not you should be a little more proactive. I just don't think now is the time for it and I think you have more to gain (and certainly less to lose) from playing it cool at this point. Things will get real awkward if either of you get the sense there are unrequited feelings there while he still has to depend on you to take care of him but. Not to mention, you don't want him to take a romantic interest in you just because there aren't a lot of other people around and he needs someone to be there for him—that's not sustainable and will eventually get really awkward too. But, if you can avoid either of those scenarios by being patient, then at the end of all of this (regardless of how it turns out romantically) you guys will probably stay fairly close… And if it doesn't end up turning into something more than friends when things do go back to normal for him, I promise it won't be because you didn't come on strong enough now.
I can't answer this question based solely on how fucking confused I am. OK. So, he has a broken jaw, correct? When you have a broken jaw, don't they have to wire it shut for a few months while it heals and you can only drink a Boost for breakfast and Ensure for dizzert? Now, I'm basing most of this on Kanye West's experience, true, but still, how is he supposed to show interest in you if he can't talk? Is there a chance that they'll cut the wires and he'll be like, "GGGGGGAH! FINALLY! I'VE BEEN WAITING MONTHS TO ASK YOU IF YOU WANTED TO GET A DRINK OR MAYBE EVEN DINNER SOME TIME?!" Because if so, that would be romantic. And creepy. Mostly because I imagine moths and shit flying out like when Billy Butcherson rips open his mouth in Hocus Pocus.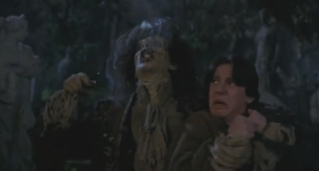 And that's why I can't give you my opinion. Because I can't stop thinking about that. And now I want to watch
Hocus Pocus
.
Dear Queer Abby,




Yours truly is queer. Like full on blossoming-ball-of-sunshine in a vase of tulips type of gay. If there was a fire in my apartment, the one thing I'd grab is my autographed headshot of trashy-novel author Jackie Collins (in the ornate hot-pink frame, naturally) - just setting the scene here.




So last week I left the District for a work trip to foggy San Francisco. Being an expensed trip, I rationalized that it was perfectly appropriate to blow some cash at a bar in the Castro on drinks. I chose a karaoke joint with a one-word name and a cute bouncer. Long story short, I made out with a WOMAN. Repeatedly. And kind of didn't hate it.




There was some sort of I'll-buy-you-a-drink, date combination going on, and all of a sudden we were kissing and singing Barbie Girl by Aqua (WHICH MAY HAVE BEEN MY IDEA, I SHOULD ADMIT) on stage and it was delicious.




What wasn't delicious was the malibu and cokes and Marlboro ultralight breath of said gentelady (which I can still taste), and the confusion in the morning.




Now that I'm back safely ensconced in the borders of DC I can't stop thinking about it. Am I straight? Is there anyway I can atone for my sins with some sort of ultra-gay adventure or something? Should I give the ole' ladylumps a chance????




#CONFLICTED




Signed,




~I left my Gay Card In San Francisco
You think an ultra-gay adventure will fix this? You had your sexual-identity crisis at karaoke bar in gay-Mecca!...
I'm gonna spare you the sexual spectrum speech and just say, 'Congrats, you just doubled your dating pool!' From here forward just try to explore your interest in whoever catches it, regardless of what's in their pants. You'll either figure it out one way or another, or you'll realize you don't have to figure it out. And either way, you won't have to deal with the unresolved questions.
I wouldn't be questioning my sexual identity so much if I were you. Because it's my belief that making out is like being sexually attracted to Jenny Lewis; it knows no gender. So you made out with a girl and you liked it; what with the taste of her cherry chapstick—maybe you've just discovered that you like making out with girls? That's cool. You have a really clever pseudonym, like the musical stylings of Aqua and live in DC; we'll totally make out sometime.
I'll tell you a story. One night during Senior year of college, the AU gang was out at a bar in Adam's Morgan (again, I stress Senior year of college) and Alex and I got into a fight. We took it outside and apparently our argument got heated because out of nowhere this drunk-ass girl stumbled up, grabbed us both by the arms and slurred, "Oh my gawd. You guys are schluuuuch an attractive couple. You can't fight. MAKE OUT! I WANNA WATCH YOU TWO MAKE OUT!" Alex and I looked at her, looked at each other, shrugged and proceeded to make out in the street for her viewing pleasure. And after her friends finally dragged her away, we went right back into fighting like it never happened.
My point here is this—Alex and Meg: will make out 4 compliments. My secondary, and less important point is that I don't think Alex questioned his sexuality after that. (I'd call and ask, but I'm pretty sure his parents are in town and staying with him tonight and I don't want them to overhear me being like, "HEY, ALEX! REMEMBER WHEN WE SUCKED FACE IN THE STREET BECAUSE SOME DRUNK CHICK WANTED TO WATCH? DID YOU STILL THINK YOU WERE A QUEER AFTER THAT?!") Because making out is fun; even in the middle of a heated fight. Shit, it might even be more fun then. The true test is whether or not you want to take it any further with a lady. For example: vaginas.
Let's talk about vaginas for a moment. I realize that I run the risk of having all of my feminist points taken away from me when I say this, but, I do not care for vaginas, thank you. I interact with my vagina as little as humanly possible. Sometimes I put something in, sometimes I take something out and I keep it clean. That's about as deep as that river runs. Because of this, I have a very medieval level of understanding about vaginal anatomy. Until three months ago, I didn't know where the cervix was and thought if you threw it in the river and you floated, it proved you were a witch. My vagina is a haunted house of mystery to me. I open my legs and ghosts fly out. I mention this because during one of my recent business calls with Tulane Chris, this exchanged happened:
Meg: I think I'm destined to be alone. But then again, I get emails all the time from chicks telling me they have a girl-crush on me. Do you think that's the Universe's subtle way of telling me that I'm a lesbian?
Tulane Chris: Well, let me ask you a question.
M: Shoot.
T: When you see a pretty girl walking down the street, do you think to yourself, "God, I'd just give anything to rub my face around in her warm, dripping wet pussy"?
M: [After a solid 30 seconds of silence] I'm literally so nauseated right now that I can't feel my legs.
T: Congratulations, you're not a lesbian.
So, dear reader, I ask you this: if you saw a pretty girl walking down the street, would you give anything to rub your face around in her warm, dripping wet pussy? If not, I think it's safe to say you're still the gayest kid on the block. And if so, meg@2birds1blog.com.
Do you have a question that you'd like Amy and Meg to answer? Do you want Meg to hit on you? Despite your very obvious sexual orientation? Shoot an email to QueerAbby@2birds1blog.com today!