As I settled into the back of my parent's Jeep Friday evening, worn out from a day of apartment cleaning/re-painting/re-arranging, my

iphone

dinged letting me know that I had just received an email. Christian C. from the New York, NY network had sent me the following message on

Facebook

:
"Christian C.
you look cute but we live too far. it would never work!"

Hm. This sent a few red flags-a-

flyin

':
1.) We don't have any mutual friends.
2.) I was

just

having a conversation with someone about whether or not it's socially acceptable to use

Facebook

as a flirting medium with strangers. (My argument is no, that's more

myspace's

scene.

Facebook

is good to flirt with people you already

know

.)
3.) This guy is hot. And British. And lives on the Upper West Side. Normally the random guys who message me on

myspace

are

Latino

gangbangers

from Inglewood who call me "

mami

" and wanna do unspeakable things to dat a$$. I mean, I'm not saying I look like Sloth from

Goonies

, but what the hell is this guy doing wasting his time with me?

Then I realized. He thinks I'm Leighton

Meester

.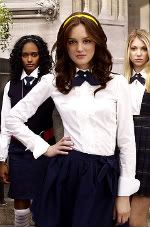 My favorite TV drama archetype is the over-

privileged

, bitchy, brunette. (The

exception

of course being Summer from

The

OC

. Rachel

Bilson

/Summer Roberts = Fail.) Blair Waldorf (as played by Leighton

Meester

) from

Gossip Girl

is my personal hero. Not since

Dynasty

's Fallon

Carrington

Colby have I seen such

exemplary

levels of brunette snobbery and good fashion sense. So as an homage, I made her my

Facebook

picture.

Given I had about 45 minutes to kill in the car with my parents on the way back to their house, I decided to see where a conversation with Christian C. from New York, NY would take me. Below is the entirety of our conversation. Enjoy.

Christian C.: you look cute but we live too far. it would never work!


Meg

McBlogger

:

Well not with that attitude it wouldn't!
Christian C.: Well, i guess so...I'm not going to spend too much time talking about myself, but I'm good looking, muscular, funny, exciting, adventurous, cool, a real man's man -- the kind of man other men want to be, and women want to be with! But most of all, out of everything else, my best trait is...I'm modest! ;-)



Tell me about yourself...Did you do anything interesting for new year' eve?




Meg

McBlogger

:

Yikes, I'm going to have to stop you there. You do realize the girl in my

facebook

photo is actress Leighton

Meester

, yes? Don't get me wrong, I consider myself an attractive girl, but Leighton

Meester

I am not. If I've

dissapointed

you, she films her show in NYC, so stalking her down is always an option I guess?
Christian C.: Yeah, i realised but only after your first reply but then i liked your response so figured you had to look something like her to add her to your profile!!

[editor's note: I do not. And I'm almost positive at this point in our messaging he could just click my

picture to see actual photos of me, but I don't think he realized this. I chalk it up to him being a foreigner.]




Meg

McBlogger

:

Yea, sorry about that. Actually Leighton

Meester's

body plus my amazing personality would be quite the catch. Sorry I can't totally make that happen for you. But yes, I relate to her being a sassy brunette myself. But the similarities stop there.
Christian C.: sounds perfect!

[has already sent a friend request]

let's be friends so i can c for myself ;)




Meg

McBlogger

:

Oof

, are you really ready for that responsibility?
Christian C.: how do you mean?


Meg

McBlogger

:

Here's how I see it. You have a few options here, if you see what I actually look like you can like what you see, or not like what you see. If you don't like what you see, you can either stop talking to me (in which case I know it's because I'm not Leighton

Meester

-y enough, which is kind of a dick move on your part and I don't know if you want the guilt of ruining a random girl's night) or you can be polite and continue to courtesy message me, and who has the time for that? OR you could actually like what you see and continue to message me knowing this is going nowhere anyway. I mean I'm pretty good with how I look, so it's not a big deal, I'm just thinking of you. Personally, I wouldn't want that pressure.
Christian C.: this is

ridiculously

stressful. ha ha. i don't know which i should do?




Meg

McBlogger

:

Well, think hard. It's your decision and yours alone.
Christian C.: i guess we should just end it. either way this

isnt

' going anywhere, but i got more out of this conversation than i ever though i would when i sent you that message!




Meg

McBlogger

:

That's fair enough.
Christian C.: I'm gonna start watching that show now and think of you!! ;)


Meg

McBlogger

:

You'll always be the Chuck Bass to my Blair Waldorf.
Christian C.: ha ha what?


Meg

McBlogger

:

Ugh.

Never mind

.


Sigh...breakups are worst. Time to rebound with a Latino

gangbanger

!