God

damnit

! After I harassed you all to be my

BFF

on

Facebook

, old Mark "The

Shnozz

"

Zuckerberg

deleted my account: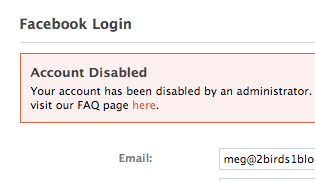 Come on

Zuckerberg

...what did I ever do to you? You have billions of dollars and I have...dozens of dollars.
Facebook

deleted my account because I "misrepresented myself" by using a fake name, which violates the terms of agreement. In my defense: oh-

pshh

-

ah

! That giant box of six-point-circus-type could have said I do hereby decree to wear a

onesie

and carry one of those

ye

-old-

timey

lollipops

around for the rest of my life and I wouldn't have a fucking clue. If there is actually anybody out there who seriously reads the entirety of internet terms of agreement, I will give you a thousand dollars in cash and a solid high-five. It's seriously laughable to me that the act of checking a little box, while wearing my Jack Daniel's pajama pants, laying in bed, using my little laptop with my Seth Meyers Gap ad wallpaper can be considered a

binding legal contract

. It's on par with the contract in Willy

Wonka

and the Chocolate Factory. Whatever happened to the days of signing in blood? Back when contracts were a gentleman's sport and a signature meant something.
I didn't even know

Facebook

took fake names so seriously...what with being

Facebook

friends with Zack Morris and Carl

Winslowe

and all. And where were the

Facebook

gestapo

sophomore

year when Helena made a fake profile for Ted Kennedy with the AIM

screen name

"

iKilledAhooker

"?

Nothing

about that profile tipped you off,

Zuckerberg

? Were you

slightly surprised

when you didn't get a

news feed

update on inauguration day saying, "

Ted Kennedy is

totes

seizin

' up to the

geezin

' up"? (Oh my God I'm so sorry. I love that silver fox water buffalo until the day I die! Although the day

he

dies will probably come first.

Gah

! I'm sorry, it just keeps coming! THAT'S WHAT SHE SAID! God

Damnit

!!!)
Oh, and let's not pretend you're too good to be used for promotional purposes,

Facebook

. You sunk that ship the day you decided to let any Tom, Dick or Mark the

Molester

join sans college email address, free to hide behind their shadowy blue silhouette default picture. (The question mark had more class.)
Because it's in my nature to find the sneaky and slightly dishonorable way out of a sticky situation (oh me! I'm a

wily

one!), I decided to send the following sternly worded email to

Facebook's

disabled profiles department to appeal:
To Whom it May Concern:

I am curious why my

Facebook

page was flagged and deleted. I did not have any offensive material, nor is my Native American name,

Twobirds

, a "fake name" which "misrepresents my affiliation."

I would like to think that in this day and age, people would be more sensitive to Native Americans and our everyday plight.

-

Twobirds

O-

neblog



I then got an auto-response saying that the

Facebook

team thanks me for my inquiry and will get back to me soon...which they never did. I guess I deserve that.
So, my super-networking-seriously-trying-to-grow-my-readership thing lasted a whole weekend, which given my attention span is pretty impressive. Oh

wellz

. Back to

strategizing

how I'm going to bring back

pogs

!