Ok

. The dreams, you guys. The dreams have to stop. I haven't gotten a good night's sleep in months and it's driving me crazy. I blame a few things for this: Evie, of course, but mostly I blame the god awful recurring dreams I keep having. These dreams are obviously the result of being a whiny little

emo

bitch, all lost and confused about life, but come on subconscious! Get another hobby! I'm exhausted! It's gotten to the point where before I go to bed I'm like, "

Welp

, here we go again. Better brace myself for another long night of being

pantsless

in public or lost on the highway." Sucks.
Recurring Dream #1:

TIDAL WAVES. Ugh. Jesus. I hate this one. I'm always hustling to dive into the waves before they break on me. Then I wake up physically exhausted from all the metaphorical wave diving I've been doing, which is a slightly fat-kid move on my part.
Tidal waves or tsunamis suggest a period of emotional upheaval. Anxiety, stress, and unconscious materials may be coming to the surface and affecting your daily moods. Giant tidal waves may symbolize current emotional unhappiness and psychological stress, which are threatening to destroy you.
Oh. Good.
Recurring

Deam

#2: TORNADOES. 9 times out of 10 I'm running around the house trying to find Evie so I can save her from impending doom. You're welcome, you loud little asshole.
If you have reoccurring tornado dreams consider the emotional changes in your life and also the amount of anger and rage that you may be currently experiencing.
Ugh. I do have a lot of anger and rage. But I plan to take this rage to the badminton court and let the opposing team feel my wrath. AND WHAT?!
Recurring Dream #3:

I'M BACK IN HIGH SCHOOL. Jesus god almighty. I have this dream at least three times a week and it's horrible. It's not the fact that I'm back in high school that's so bad, it's the fact that I haven't been to any classes the entire semester and I'm afraid I'm going to be held back. I'm always in class on the final exam review day and I'm like, "Well fuck me, I have no god given clue what this class is about and the final is next week." So then I convince myself that I'll just spend all weekend studying and catching up and everything will be fine and I can graduate on time. But then I have this moment where I stop and think to myself, "Huh. It is oddly out of character for me to just not show up to school for an entire semester. What have I been doing this entire time? Shouldn't my mom be mad at me? Wait...didn't I graduate like six years ago?" And then I wake up. I had this dream last night, except a.) I was Blair

Waldorph

and b.) I was trying to convince my mom to let me stay home because I didn't want to deal with the stress of talking to my teachers and getting all the work I missed. I distinctly remember running my hands under cold water to make my mom think I was "cold and clammy." I was like, "Ferris

Bueller

said that's the key to staying home! I have to appear cold and clammy!

COLD AND CLAMMY!!!!!

" She ended up letting me stay home as long as I helped her deliver Christmas presents to our neighbors. I said no because I was sick and couldn't run around the neighborhood with her all day or I'd puke. Which was a dick move on my part because I was totally faking it. Sorry mom.
To dream that you have to repeat high school, suggests that you are doubting your accomplishments and the goals that you have already completed. You feel that you may not be measuring up to the expectation of others. The dream may occur because some recent situation may have awakened old anxieties and insecurities.
Oooo

! Relevant and meaningful.



Recurring Dream #4:

I FORGET THE LYRICS IN ROCK 'N ROLL REVIVAL. If you didn't go to Sherwood High School and are unfamiliar with Rock 'n Roll Revival, kindly read up on it here and here (and check out a vintage

picture of my sister

rockin

' out in white go-go boots, snake skin pants and a maroon halter top here) I'm far too exhausted to open that can of worms. Anyway, so I'm back in high school (again) and it's opening night of

RRR

. I'm a soloist, but I have no idea what my song is, what the lyrics are, what my costume is or when I go onstage. But I can't let anyone know what's up because I don't want to get yelled at by Mr. Evans, so I have to slyly get information out of people like, "

Heyyy

guy

, sing the chorus of that song I sing...I want to hear what it sounds like when you sing it, L0

LZ

! And have you seen my costume anywhere...?" This dream is six different kinds of pathetic and I hate myself for having it. Last night I dreamt it was opening night and I was at H&M trying to throw a costume together but nothing would zip up past my boobs. Finally I got on stage (half-zipped) and just stood there because I didn't know what to sing. Then it hit me that I was supposed to be singing "This Time I Know It's For Real" by Donna Summer, except I only know the lyrics to the first verse and the chorus. Ugh. I woke up before Mr. Evans could yell at me. You bet your balls the first thing I did when I got to work this morning was google those lyrics. I am now prepared to sing the disco hit "This Time I Know It's For Real" at any given moment. TRY ME!

A stage in the dreams may indicate your need for more respect and attention. Dreaming of standing on stage denotes that before you have success, you need to work for it first.
I don't generally like to work for things. But know what I

am

willing to work for? Dizzy Tour's Drunken Monument Experience. Oh yea. It will become a reality. So keep July open...

wink!



Alright, I'm exhausted. Let's get this drinking game underway. This week we'll be playing

Alex's

Requiem

for a Dream Drinking Game

! Quote Alex, "It's nothing special, but it'll still get you pretty toasted." If that's not an amazing introduction to a drinking game, then I don't know what is.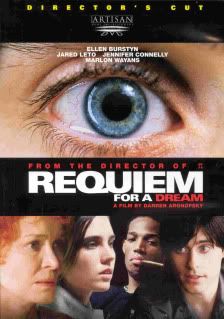 Rules!


Drink When:


- Someone does drugs
-

Someone's

eye

dialates


- The refrigerator attacks Sara

Goldfarb


- The game show audience says "Juice by _____"
- There's a shot of Harry's infection getting progressively worse
- There's an amputation
- Someone cries


Empty every bottle of liquor in the house when:


- The old creepy businessman says "ass to ass"



...Then Alex says
"most of the drinking should probably be done after the movie is over
. Just for comforting purposes."
Thank you so much for reading and we'll of course see you back here Monday morning. If you wanna be a real pal, you can follow us on twitter, join our

facebook

page and pass this

rickity

old blog on to a friend. That would be swell. Have a great weekend guys!