Welp. Meghan McCain refuses to apologize for the crude and senseless comments she made about our Nation's capitol and those who call it home. Although she

miiiiight

be hesitant to apologize because I told her to go fuck herself twice; called her "fuckin' obnoxious," suggested that her mom has a raging pill addiction; likened her father to Hans Moleman before hoping he would lose in the election and taunted her relentlessly on Twitter. I suppose that's not really the "

best

" way to get someone to apologize to you. But I'm from DC! I'm all socially inept and don't know how to relate to people! I'm allergic to spangles and sparkles! If I'm not talking about politics, I get all confused and overwhelmed and need my inhaler. Telling someone to go eff themselves doesn't mean "I like your hair"? Damnit! I need to go play Dungeons and Dragons and clear my head.

Until I get my apology, MMcC is officially being added to my list of All-Time Grudges. Yea that's right MMcM; I just likened you to Dana P.

Feel the burn

. Run into me in a dark alley and I'll fuck all y'all up with my badminton racket. Those broken laces sting like hell. Go complain about

that

,

Dana P. (God; I really need to let that one go.) However, as with all who wrong me, the grudge can easily be reversed by making it right. I just need a quick little apology on behalf of the District. It doesn't have to be anything fancy. Hell, even a "Sorr about the bag" would suffice. It's just that easy. My homely cardiganed arms are always open to those who want to make it right.

...And now back to your regularly scheduled Hills recap!

So there were three,

count 'em!

,

three

plotlines on last night's episode of The Hills. CONFUSING, I know. Let me break it down for you so it's a bit less complex:

- Scott the praying mantis is still milking the Steidi the 'Stache-tender plotline for everything it's worth. Seriously Scott? Didn't you go to Dartmouth on a Lannan Fellowship? Shouldn't your writing be slightly more compelling than this? I mean, I know it's springtime and you probably just want to go frolic in tall grasses and such, but MTV hired you for a reason: to write interesting episodes of The Hills. Not to hang around your tree eating beetles and recycling old plotlines five minutes before deadline. Pull yourself together.

- Audrina broke up with Justin Bobby

FOR GOODS, FOR GOODS

. JB was upset about it. He packed up his cut-off slacks, stripped knee socks and giant lollipop and skulked back to Oz: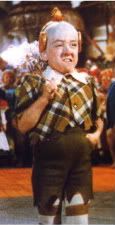 - My favorite plot of the evening was the Lauren Conrad/Stephanie Pratt office drama. The episode started with old LC and Steph walking to work in demin jackets and trousers; bindles on their shoulders. "Now when we get to work Steph, you gotta concentrate OK? Let me do all the talking; you just steam the dresses." "

Duhhhhh

,

hokay Lauren," Steph said as she pet her mouse. "Um, Steph, I think that mouse is dead." "

Duhhhhh

, I think petted it too hard Lauren." "K...Well you can't have a dead mouse in People's Revolution. Get rid of it." "

Duhhhh

, hokay. I like to pet soft things Lauren." "Yea...just get rid of it."

After stopping at a creek for a quick drink of water, the two finally arrived at Kelly Cutrone's fashion ranch for work. "Lauren, tell me again about the fashion ranch we're gonna have one day." "Steph, I really have to set up this spreadsheet. I'll tell you another time." Upset, Stephanie started to cry and crushed a stapler with her bare hands. "OK,

OK!

One day we're going to own our very own fashion ranch, Stephanie." "And I'll get to tend the rabbits?!" "Yes, Stephanie, you'll get to tend the rabbits."

Later that day, Lauren left Stephanie alone to pack up a few garment bags with neutral colored dresses to bring to a photo shoot. Lo swung by to find Lauren and instead found Stephanie stroking a neutral colored velvet dress. "Hey Stephanie, that's a pretty dress." "

Duhhhhh

, it sure is Lo. I like to petted soft things!" "Speaking of soft things, have you ever felt my hair recently? I just got this

amazing

new conditioner that makes my hair so smooth. You gotta feel it!" Stephanie grabbed Lo's hair with her big, clumsy hands and ran her thick fingers through it. "K Steph, you're starting to mess up my hair. Let go. Stephanie, what's wrong with you?! Let go of my hair!" Upset and confused why Lo was so angry with her, Stephanie grabbed Lo's hair tighter. "Stephanie, what the fuck is wrong with you?! LAUREN! LAUREN, HELP!" Scared for her job, Stephanie put her massive hand over Lo's mouth and gripped her hair harder. A struggle ensued until Lo's lifeless body fell limp like a dead fish. "

Duhhhhhh

, I think I killeded her."

Hearing the clack of Lauren's heels coming down the hall, Stephanie panicked and hid Lo's dead body in a pile of dresses waiting to be steamed. "Hey Steph, I need you to run to the store and—is that Lo in that pile of clothes?! Is she

dead

, Stephanie?!" "

Duhhhhh

, I did a bad thing Lauren. DON'T BE MADDED AT ME!" Just then, Kelly Cutrone came into the office looking more frazzled than usual. "Shit. Kelly's here. You gotta hide Stephanie. She's gonna be so pissed when she sees this mess." Confused and scared, Stephanie lumbered out the back door and ran to her hiding spot down by the creek.

"Lauren," Kelly said as she took her sunglasses off to examine the curious pile of clothing before her. "Is that Lo Bosworth's dead body laying on that Zac Posen dress?" "............Yes." "Yea, OK. This was fun while it lasted. Remember when I said Stephanie's interview was such a farce she just might be a genius? Well I was wrong. You have to kill her." Lauren opened her mouth to protest, but she knew Kelly was only right.

Down at the creek, Stephanie paced back and forth mumbling about how mad Lauren must be at her for doing the bad thing. "Hey Steph," Lauren said softly. "

Duhhhhh

, Lauren you're so maded at me! I did the bad thing again!" "I'm not mad at you Steph. Nobody's mad at you anymore. And nobody will ever be mad at you again," Lauren said as she took Kelly Cutrone's luger out and unsnapped the safety. "We're going to get our own fashion ranch Steph. And you can tend the rabbits and nobody will ever be upset with you again." Then, as one mascara laden tear ran down Lauren's cheek, she pulled the trigger and shot Stephanie in the neck. Stephanie fell forward into a pile of sand and Lauren threw the gun into a pile of ashes. "Yeaaaaa...that had to be done," Kelly Cutrone said as she put her hand on Lauren's shoulder. "Come on, let's go get a drink and I'll tell you about the time I partied with Poison at the Viper Club."



Fin.



Yeah. I'm not entirely sure if that was Of Mice and Men or The Hills.

'Eh fuck it; close enough.