Hi gang! Happy Drinking Game Friday and such and such. Before we get into this week's drinking game, we're having a little

promotion

around this here rickety old blog. I have now become obsessed with winning the Blogger Choice Awards for both Best Humor Blog and Best Blog of All-Time. But I'm not fixated on winning because I think this blog is

that

good. Because it's not. (Which I'm reminded of that every day via email and anonymous comments. Thanks!) I'm obsessed because it gives me something to do. I could focus my attention on

a.)

doing my job (LOL!);

b.)

stressing about my life

;

c.)

finding a new job (DOUBLE LOL!) or

d.)

winning a random blog award. I choose D. With a dash of B.
Here's the deal: go here and go here. Sign up (I'm sorry, it's a pain in the ass, I know, but I swear it just takes a hot second,) vote, take a screenshot, email it to meg@2birds1blog.com and I'll send you a handwritten note with a bunch of super fun promotional 2b1b stickers! FOR FREE. STICKERS & A NOTE? Fuck yeah! What will the note say? Don't know; depends on my mood. Might just be something I'm thinking about at that moment. Could be a random Dr. Dre lyric. Perhaps the recipe for my mom's Sicilian Vinegar Chicken. Could be a secret I've never told anyone before. Maybe if you're lucky it'll be an embarrassing story from my childhood. Who knows what you're going to get! Oh wait, I do; STICKERS! Who doesn't loves stickers? You can put them on shit and they look cool. So

vote for us, take a screenshot and email it to meg@2birds1blog.com with your address.

If you've already voted, that's cool, just go back to the site and take a shot of that. Use multiple email accounts and I'll send you multiple letters/stickers. Get your friends to do it and I'll send them shit too. We all win! meg@2birds1blog.com.
---------------
So last night I was walking home from dinner and got caught in a giant thunderstorm, sans umbrella. While I was walking all emo-like in the rain, I had a total flashback to the scene in

Mannequin

where Jonathan is pushing his broken motorcycle in the rain after his failed date with Roxie and he sees his Mannequin in the window of Prince and Company and freaks out. God I love that movie. It has arguably the best outfit montage in motion picture history:
That and I think I've offically decided that my wedding song is going to be Jefferson Airplane Starship's "Nothing's Gonna Stop Us Now":
It is my

great

pleasure to give you this week's drinking game:

The Mannequin Drinking Game!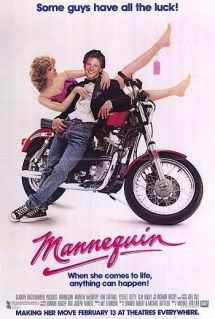 Rules:
Drink When:
- Jonathan gets fired from a job
- Hollywood yelps
- Hollywood complains about Albert

- A cheesy transitional wipe accompanied by a "woosh!" noise is used between scenes
- James Spader sucks up to B.J.
- Armand hits on Roxie
- OUTFIT SWITCH DURING THE OUTFIT MONTAGE!
- Emmy goes from mannequin to person and visa versa
- Emmy talks about her life in Ancient Egypt

- Felix calls Jonathan, "Switcher"
- Felix talks to Rambo

- New window display
- People speculate about Jonathan's relationship with his Mannequin

- Estelle Getty is on screen. Period.
As always, thank you so much for reading. Remember to take your screenshots and get your free shit! Have a great weekend and we'll see you back here Monday morning!