In case you haven't heard, Meghan McCain is being obnoxious again. (I know, SHOCK!)
Basically she's going around town talking about how she's writing a book about herself "and what it means to be a progressive Republican in the party today." She wants Hillary Duff to play herself in the movie version. You know, the movie of the book that hasn't been written yet. She wants Bradley Cooper to be in it too "because he's so hot."
She describes the book as, "half political and half a memoir. It's like

Primary Colors

meets Tori Spelling's

sTORI Telling

. I want young women to actually be able to read it."
Oye vey. Thank you to Reagan from Houston for first sending me this article and thereby first sending me into a rage the likes of which startled even myself. I was too mad to even write a post about this last week. I sat down and started typing and this is all that came out:
______________________000




______________________000




______________________000




______________________000




______________________000###




__________________#000000000###




______________000##000000000000




______________000_#000000000000




_______________000_000000000000




________________000000000000000




_________________0000000000000




__________________00000000000




___________________000000000




___________________000000000
But I can do better than that. I can use my words. I just needed to take a few days to cool off and gather my thoughts. So, let's all just take a deep breathe and do this together, shall we?
Oh Meghan, Meghan, Meghan...what are we gonna do with you, homegirl? I can't help but wonder if Meghan McCain realizes

why

people find her so god damn irritating? It seems like she spends more time defending the obnoxious things that come out of her mouth and less time explaining what it means to be a "progressive Republican." But boo, I'm gonna help you out. I'm going to let you know exactly how you're fucking up and how to fix it. Why? I don't know. Possibly because I'm nice and my heart is too big for this cruel, cruel world. Or possibly because if I see her open her mouth and bring down my gender one more time, I'm just going to snap and may god help us all. So here we go.
Meghan McCain: you are an obnoxious piece of shit. There it is. That's your main problem. If I were a doctor, I'd diagnose you with a severe case of

"That Girl."

I'm going to have to assume that you don't have any friends, because if you did, I feel like one should have stepped in by now and said "hey Meggles? Stop. You're embarrassing yourself. Let's go do some hot yoga, regroup, come up with a strategy to make you seem a little more likable and try this whole 'politics' thing again." Because that's what friends are for. Making sure you don't look like a total jackass. My group of friends in college had a helpful little trick that we'd use for each other that I think you and your "friends" should adopt: whenever someone was being That Guy or That Girl, we'd gently tell them they were being a total

Tommy Gilbert

or

Theresa Gilbert

, depending on their gender. TG. You're being

That Girl

.
So let's say, for example, that we're friends and you're talking to me about how you're totes defs gonna write this book that's like

The Cat in the Hat

meets

The Iliad

but for at-risk preteen latchkey kids and your dad knows someone at Mirimax who you gave a handie to at last year's Christmas party so now he's

totally

agreed to make a movie out of your book whenever it's done (no rush!) and you'll totes get casting approval so Hillary Duff is gonna play you and Bradley Cooper is going to play Obama and you guys save the world from vampire/aliens (Valiens!) by dry humping your way to freedom!

Now, had you said that to me, I'd sit you down and say, "Hey Meghan?" And you'd be all, "Yea Meg?" "You're being a total Theresa Gilbert right now." And then you'd be like, "
Omg am I?!
"

And I'd be like, "Yea...kind of." And then you'd go, "Oh shit, my bad! This is embarrassing. Thank god we had this talk

before

my interview with Page Six about my upcoming book or I probably would have just told them all that and looked like a giant jackass!" And I'd say, "It's ok M-Dawg, that's what I'm here for!" And then we'd hug and have a big pillow fight and braid each other's hair.
But unfortunately I'm not your friend. So that didn't happen. And you shamelessly Theresa Gilberted all over the place. But like I said, I'm going to try to help you figure this whole "be likable" thing out. So let me break it down for you: You see Meghan, people don't like or respect overprivileged people who don't have work hard for their accomplishments. It's not the American way. It's why we don't like

NYC Prep

, the Hilton family, Rummer Willis or any of the Baldwins who aren't Alec. People like hard-workers; they like a good rags-to-riches story. So when you woke up one morning and decided to follow-up a children's picture book about your dad with a political memoir that you assume will be so brilliant it'll be made into a movie starring a hot blonde chick, you come off like a

real

egotistical and assumptive cuntbag. And people tend to not respect egotistical and assumptive cuntbags. Do you see what happened there? Did you catch that last part? You took yourself from picture book author to assumed

New York Times

bestselling political memoirist/screenwriter/Lizzy McGuire. That's a mighty leap to make. And you didn't make that leap based on hard work and pride in your final product,

you made it based on being Meghan McCain.

And that my friend,

does not

make you look good.
What do you think would happen if I walked into Random House today, pulled out my tampon, plopped it on an editor's desk and said, "Here's my book proposal. I call it

I'm Tired, Give Me Money.

Oh, and it's going to be a movie too. I've always thought of myself as a cross between Tiffany-Amber Thiessen and the fictional character Jackie Brown, so make that into a real person and have her play me. And have my love interest be the hipster with the moustache from

Ace of Cakes

because I have a mega-huge crush on him. Not Geoff. The other one. Ben. Kay. I'm gonna go smoke a Parliment Light now, when I come back this better be a reality. LaTeR HaTeRs!"
Now in reality, what do you think would happen to me if I really did that? I'd probably be arrested, right? Escorted out of the building and asked to never return at the very least, right? You would be correct! In the real world, that is what would happen. But in

Meghan McCain's

world,

this

would happen: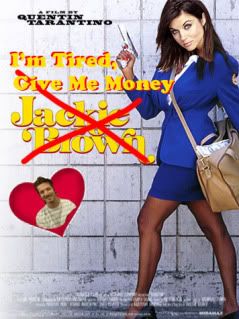 Given the option, I'd rather live in Meghan McCain's world
—
it seems a shit ton easier and I get to carry a gun. But, I'm not Meghan McCain. I can't fling my tampon around and expect to get a Pulitzer Prize for it. I have to actually put in the work; McCain doesn't. That's just the way the cookie crumbles. But you know what Meghan McCain? You don't have to rub it in my face.

That

is what makes you so unlikeable. Not that you're blonde or have big boobs or that you're the daughter of a politician or that you're Republican, but because you're fucking obnoxious. And no matter how smart or talented you actually might be, if you keep Theresa Gilberting all over the place, you'll never amount to anything more than John McCain's obnoxious twat of a daughter.
So as a fellow big-boobed writer who will probably never seen a

fraction

of the success you will, I say this to you: shut your mouth and quit fucking it up.
I'll be watching

Ace of Cakes

and having some private time should you need more advice.