Well, reactions to "Worst of Netflix" were decidedly mixed, so we're going to go with our second-choice new feature, Geography Pun of the Day.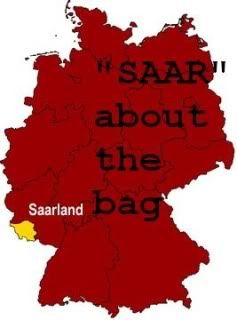 In among all the "you suck" and "you didn't suck until you did this, but now I'm reevaluating" and the occasional "MORE BLOODY BREASTS," I noticed two repeating themes in the comment on my review of Grace:

You think I should watch "The Human Centipede," and some of you don't like features and prefer it when Meg and I talk about our lives. I looked "Human Centipede" up and I am SOLD whenever it comes to DVD. As far as the other goes: I like writing about things that happen to me better too. Those posts are generally easier to write, and I'm usually more satisfied with them. I have to point something out, though. I can't vouch for Meg, but occasionally a day goes by when I don't humiliate myself in public or Indian leg-wrestle a clairvoyant prostitute named Boom-Boom Jarowski. Once, in 2006, I went through a whole week of days like that, but then I may or may not have ruined that streak by falling onto a luggage-claim carousel and being dragged several feet, nearly realizing my fear of having my death reported under the headline, "Area Man Dies in Fluke (random object) Accident." I know I make a big deal out of being "zany" and whatnot, but the sad fact is that a sizable minority of my days go by like last Tuesday did. I got up, formatted and published a blog post, ate a French bread pizza, drank a bottle of wine, and passed out watching cartoons. Humiliating? Sure, but not enough. I could lie and say, for example, that I started to choke and had to pull the French bread pizza out of my throat with two fingers, or that this terrible diet made me have

diarrhea

in front of everyone I knew, but I try to keep my writing truthful except for the stuff I tack on about sex and alcohol to make it more exciting. (Hi, Dad!)

Sometimes, the best-laid plans of bloggers fall flat. I had high hopes for a family fishing trip I went on a couple of weekends ago. Family? Rural setting? Catfish? I expected to get an epic out of it, a goofball farce before the mesquite-and-red-dust background of West Texas. Nope. Everyone behaved themselves, no one got drunk and fell in the lake, and the family was balanced enough between Democrats, Republicans, and secessionists that we left politics alone. The only remotely blog-worthy thing that happened was our emergency run to Bronte (not Bron-tay like the authors but Bront as in Brontosaurus – it's about 20 miles from Tennyson) to get seasoned salt. I thought the phrase "We have to go to Bronte to get seasoned salt" was hilarious and giggled to myself the whole drive there. My sniggers were punctuated by Mom's comments, inspired by an AARP magazine she found in the back seat, about her decision never, never, ever again to have a colonoscopy. It had all the ingredients - Mom, buttholes, austere Western landscapes – but it just wasn't enough to make a post.

Likewise, last Saturday I had to work a Fourth of July children's event. I don't technically like children. They're loud, they move fast, and they as often as not have snot all over their faces. I have a hard enough time talking to other adults; it's nearly impossible with kids. It's illegal (and impractical) to talk to them about sex and immoral to talk to them about liquor, which cuts my small-talk options down to the New Orleans Saints and medieval English history. These almost never work.

So, I had to sit at a table teaching kids to write with "quill pens." Now, the organization sponsoring this event neither provided me with quill pens nor taught me how to use them. What they did was give me some feathers, a box cutter, and a jar of ink with the words, "You're smart. You can figure it out." That's what they said about human interaction, and we can all see how that went. The whole situation was farcical but not really eventful, except when I was pulled onto the porch to help give a dramatic reading of the Declaration of Independence.

Even when we actively court blog-worthy events, sometimes fate intervenes. Meg and I were all primed to do an inaugural "2 Birds Investigates" about MSG, the flavor-enhancing food additive. This took the form of me stirring MSG into helpings of Chef Boyardee ravioli, Chicken Out mashed potatoes, beer, and butterscotch pudding, as Meg flopped over a chair and watched me with cold, dead eyes. We tasted the doctored helpings along with control servings of the foods, and it turns out MSG makes a noticeable difference, especially in the pudding. How did we think we would make this into a blog post? I don't know. Similarly, today I was at the drugstore and thought, "You know, we talk about colon cleansing a lot, maybe I should just do it. Maybe it's like LSD or a threesome and no one will know unless someone just DOES IT." I ran into the following problems. Turns out, colon cleansers come in one strength: super. Nope. I'll do a lot for my readers (both of you) but zero-to-sixty colon cleanse that throws me a foot in the air even as the toilet shatters – naaah. It is also impossible to buy single servings: the smallest amount I could buy was 240 capsules, totaling presumably dozens of anus-shredding "super" cleanses.

So, we'll have to make some sort of deal. You put up with the occasional feature, and I promise to tell you immediately when something embarrassing happens. Everybody loses wins!