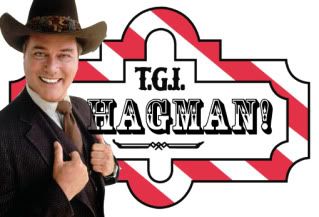 As of 1:00pm on July 16, 2010, Larry Hagman is...
alive!
And SAVING THE EARTH, ONE SOLAR PANEL AT A TIME! That's right, Larry Hagman is the (majestic) face of a new ad campaign for Solar World. THOUGHTS/COMMENTS/CONCERNS:
1.) I want to set up shop in those eyebrows:
2.) I appreciate that I wasn't the only one who had a small heart attack when "Larry Hagman" started unexpectedly trending on the Internet this week. Sir, at 78-years-young, your name can't just pop up in the news out of nowhere and
not
cause the world to assume
that which we do not talk about
. Next time, let a sister know. It's all I ask.
3.) In an interview he gave about solar power, Hagman said,
"When affordable oil gives out, we're in real trouble
—
I mean the collapse of civilization, within 15 to 20 years." In 15 to 20 years I see myself owning a pug, so that's not going to work for me.
4.) ...Do you think there's a chance that Larry Hagman might be the human manifestation of Ra, the Egyptian sun-god? Yep. Me too.