I have three apologies to make this morning:
1.) I would like to apologize to my aunt, who's birthday dinner I was too sick to attend this past Sunday night. For the past couple of weeks, I've been getting these intense waves of debilitating nausea, bad headaches and an overall "out of it" feeling. I have self-diagnosed myself with all of the following: pregnancy (despite the
extreme
mathematical impossibilities); early onset menopause (which
is
possible, especially if you subscribe to the "if you don't lose it, you lose it" school of thought); Celiac disease; Graves' disease; Lupus; Dengue fever; African Sleeping Sickness.
Whichever it is (and I'm leaning towards all of the above,) I feel like an asshat for not being there. I wrapped her present, took a shower, did my hair and makeup and everything, but in the end, the thought of getting on a rocking metro to go eat
seafood
was enough to bring tears to my eyes. Worst. Niece.
Ever
.
2.) I owe a huge apology to our weekly advice columnist, Amy. I busted her balls Sunday night to get me this week's Queer Abby before Monday morning, but then completely fell asleep while waiting for it. However, knowing myself and how I live everyday like it's "Random Cup Night" at a Sigma Chai mixer, I set an alarm right before I passed out to wake me up at 7 so I could finish the post before work.
...Unfortunately when my alarm went off, I was having this really intense dream that I went to Hogwarts and in my dream version of Hogwarts, all sophomores have to pass this crazy test at the end of the year called "The Hall of Razors." To do so, you get on your broom and fly from one end of the hall to the other as random ghosts lash out and try to cut you with an X-acto knife as you whizz by. Right before it was my turn to go down the hall, my alarm clock went off and I woke up and thought to myself, "
Ohhhhh
no you don't. I didn't go through a year of training just to wake up and miss the big event,
a-
thank you very much"
turned my alarm clock off
entirely
, and went back to bed. It wasn't until my body naturally woke itself up 45 minutes before work that I realized perhaps I hadn't made the most "responsible" decision.
3.) Mostly, I apologize to
you
that you didn't get a post up yesterday because I was too busy indulging Harry Potter-based dreams.
But better late than never, right?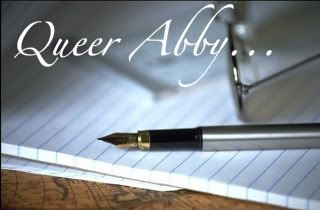 Queer Abby,




Hi, I am your resident confused teenager. It's almost ridiculous. And I'm indecisive, great combo. Anyway....SO. I like this guy, let's call him, Griffin. I've known him for three years and we've been really good friends and I had always looked at him as HIM, so I was never attracted to him! But then, in May, the planets aligned or some shit, or my hormones got the best of me, and I started to like him. Then it sort of grew into a LOT of liking him.




Then there's, um, Lucas, and he's seriously my best friend. When we first became friends I really liked him but then it started fading. Lately we've been spending time a lot, but I would get jealous when he would talk to his WHORE ex girlfriend and I can't bear for them to be together. I am normally a jealous bitch but this just makes me straight out ANGRY. Now I like him! Lala, great. Does he like me? Who the fuck knows, he probably wouldn't like me.




BUUUUT. I like the both of them. SHIT. Bad news. Yeah, uh, I spent three days with Lucas then three days with Griffin. So confused. There's ups and downs for the both of them! Lucas is very impatient, and insistent. And that pisses me off a lot of the time but spending time with him makes up for it. Then Griffin, is some sort of philosopher! I feel like I have to act smarter around him or he'll like me less as a friend. (By the way, I don't think either of them like me but I wanna pursue one of them.) I'm a lot more comfortable with Lucas, and he's the one that comes to mind first, but then I think of Griffin and I get excited and it feels new. I love spending time with the both of them, though. I always have fun with them. Then, there's a very serious health problem with Griffin. It could potentially kill him. And then LUCAS has a health problem too. I worry about them so much.




Neither of them are really interested in dating, either. (Gee, I sure know how to pick 'em.) WHO THE HELL DO I CHOOSE?!?!?!?




Please help me, no one can!,

Confused Hormonal Teenager
I've really, really, really, really tried to come up with advice that you would be likely to follow, but I just keep coming back to this: neither. You're young, so I don't want tear you apart, but you're creating your own drama. Why would you pursue either of them when you don't think they like you and they've said they aren't interested in dating? Don't get me wrong; I'm all about putting in the effort—often times one of any eventual-pair has to work for it….. Buuuuut that should pretty much stop when the other person outright says they aren't interested or has consistently failed to reciprocate your interest… unless you want to look desperate or crazy.
So yea, don't choose one to start 'pursuing'. No one is asking you to make a choice here. Why not hang out with both until you find someone else you like better or you know which one you want to be with, no contest, and he's expressed some sort of interest in dating you.
Uh, my advice to you is to call me as soon as humanly possible so we can coordinate a time to simultaneously think, "
UGH
, SOMETIMES I WISH WE COULD JUST
SWITCH PLACES
" and trade lives for a few days,
à
la
Freaky Friday
. Because I would give anything for that kind of drama in my life again. You know what the current dramz in my life is? That I have Dengue Fever and the second-coming of Christ in my womb. You know the last two guys I had to choose between? Seth and Josh Meyers, upon discovering this photograph:
And by "choose,"
I mean chose which one I'm going to whack it to later. Obviously.
If I were you, I'd stop stressing out and enjoy myself a little more. Crushes are fun! And you have
two
! Enjoy that. I do, however, agree with Amy. If they've both made it clear that they're not interested in making you the Gwen to their Gavin; move on. It's not worth your time and makes you look slightly Crazy Pants to the rest of the world. But that doesn't mean you can't totally crush on them in the mean time! Just enjoy them for what they are: a reason to take a shower and put on clean pants in the morning. No more, no less.



I'm 20 and I've considered myself straight all my life... but two years ago I fell madly in love with (and was obsessed for a while) with this one girl who was four years older than me. She was basically exactly what I wanted to be. She has always been straight, and was always a little freaked out by the way I acted around her (she coined the term "hero worship" and she sort of knew what was up). After knowing each other for almost a year, we hooked up when we were really drunk and pretty much rounded the bases. That was the first and only time I've hooked up with a girl (other than a couple pecks while drunk at parties or in spin the bottle). Right now I'm away for the summer, and I'm intensely attracted to this one girl here, and the feelings I have for her are like nothing I've ever felt before. I'm not totally in love with her the same way that I was with the first girl, but I think she's super hot and I would really love to hook up with her. She is very straight, although from what she's said, I'm pretty sure she's at least kissed girls before. There's a tiny bit of a language barrier, but it's cute. The only thing is that she is very friendly and flirty with everyone... on paper, anyone would tell me that she wants to hook up with me too... I'll list some things that have happened

—




- Sometimes she sneaks up behind me and hugs me

- She once said that "Girls are good for short term and boys are good for long term"

- She told me I was funny, cute, pretty, and smart and that all the boys should be all over me

- She asked if I had a boyfriend

- She often invites me to have coffee or a beer with her

- One time we were hanging out with boys and they jokingly asked if we were lovers and she (pretty seriously, or at least it seemed) said "Not yet"




I'm pretty sure she has no idea what signals she might be sending. I'm trying to be flirty and return the signals in a positive way, even though she probably isn't getting them anyway. All the boys here want to hook up with her and she has no idea.




Sometimes I can hardy stand just standing next to her because I am so

overwhelm

ed by the thought of just being alone with her or kissing her. And I don't want it to happen when we're drunk, because it want to remember it and I want to be "all there" when/if it happens. I guess all I can do now is keep being her friend and return all the signals even if it doesn't mean anything to her. Right?




What do I do? Part of me wants to just bring it up with her so that we can get it out of the way, and if she wants to, we will, and if she doesn't, I'll get over it. But I also know that half the fun is in the chase, and this intense excitement I feel when I'm around her (or just thinking about her) will go away if she's a "sure thing."




And a note about my own sexuality

—

as I said, I've always considered myself straight, but now I just go with whatever I'm feeling, and if those feelings are for a girl, that's fine. I'm not going to label myself as being bi or a lesbian, because I figure that I'm going through a time in my life when it's okay to experiment and see what I like and don't like... there's no point in busying myself with putting a label on my sexuality. Is that legitimate? Or am I just being a noncommittal wuss?




I know this was probably a lot longer than it needed to be, and I want to thank you in advance for at least reading it!




I enjoy 2birds1blog SO much, and I love the Queer Abby posts!



OK, as for the girl
—
It's hard to say from here, but it sounds like you're right: she's probably flirting with you some. Sounds to me like she likes the attention, from you and others. If you were trying to really start something sustainable with her, my advice would be cautionary
—
for a number of reasons
—
but since your time there is limited and she's been very up front about the fact that she's not totally opposed to messing around with women, I'd say go for it. I mean, if you're both open to the idea of being with girls then I don't see why you'd handle this any differently than you would if it was a temporary-guy you really wanted to hook up with.
So yea, as you said, just bring it up with her, unabashed and confidently, and see if she responds in kind. If so, awesome! If not, shrug it off and say something like "hey, no harm in trying, right?" or something else that, in context, seems calm, confident and maybe even charming or flirtatious so the rapport between you doesn't change much. You won't be there for long so don't take it hard or make it a pride thing, and don't act any different than before around her. I promise, you'll have way more control in dictating the level of awkward after the fact than you think; if you don't act like it's awkward, it probably won't be.
Re: your sexuality- You're not being a non-committal wuss, per se. The most important thing is that you don't deny your feelings, and it doesn't sounds like you are… And it's totally fine if you're really not interested in labeling your sexuality, BUT I hope you realize that 'straight' is just a label too. There are infinite points on the sexual spectrum, and the number of people who sit on either end are FAR fewer than those who are somewhere in between (if you don't believe me, ask a few gay boys how many "straight" guys they've given head). So yea, it's always more complicated than just "gay", "straight", "questioning"
, or whatever else, and it's really no one else's business. But, to call someone straight, and even very straight, with the caveat that "sometimes she kisses girls"… well, that's kind of bullshit, imho.
First and foremost, I just googled "imho" and it means "in my honest opinion." So there's that.
Secondly, I was on the phone with someone at work today and honest-to-god suggested that they look something up
"on the web."
Finally, we need to wrap this up soon because I'm missing tonight's episode of "Murder She Wrote" and need at least 20 minutes before bed to work this Geritol Liquid down.
Look. Human sexuality is a tricky, tricky subject that I frankly don't want to touch with a 30-foot-pole. That's why god invented people like Ex Co-Blogger Eddie who sit around all day
not
eating meat and discussing Queer Theory at fancy east-coast liberal grad schools. Personally, I'd rather stick a double-sided dildoe in my eye, but hey, that's just me. I say you go for it with this girl and not worry about what it makes you.
Because sexual experimentation is an extremely healthy and natural thing to do, right?
Sometimes I feel like less of an American because I never went through an "experimenting" phase myself. I just never felt the need. I don't know if it's because I'm secure in my heterosexuality as much as I'm just
lazy
, but either way, I feel like I missed out on something. I feel the exact same way about shoplifting. Everyone I knew went through a crazy shoplifting phase around Freshman year of high school but I was always too scared to do it. (Oh god, I have
such
a good shoplifting story about Talia but it's too late to call her and ask if it's OK if I tell it...
rough.
) I don't know if any of this advice has helped you, but
I
for one feel better. Because TOMORROW I'M GOING TO LICK A CHICK OUT AND STEAL SOME SHIT FROM WORK. Look out,
World
.
Yep. Queer Abby: changing lives. Mainly mine. Got a question that you'd like answered? Shoot an email to
QueerAbby@2birds1blog.com!