I don't even want to talk about the fact that I had to work an 11-hour day on Friday. But I did. So that's out there. BUT considering that ungodly kernel of truth, I 100% percent lost track of time this weekend, and with Monday being a holiday (which I did not have to work, thank the good lord on high), I almost forgot about Kell on Earth. I got all caught up in the Olympics, and then my DVR informed me I had to either: stop watching the Olympics or cancel recording either Kell on Earth or Hoarders. Considering Kell on Earth is my anti-drug drug and Hoarders keeps me from ferreting away used tissues and vintage medical equipment, the choice was clear. Obviously I was going to watch Kell on Earth (so I could save Hoarders for a day when my apartment gets a little left of messy as inspiration to throw shit away) and I was not disappointed. To the minions!
Well, first and foremost, Hottie Timtern Tim had FAR TOO LITTLE face time this episode. Alfred Hitchcock got more face time in his movies than Tim got in this episode and that is not ok. First,

he gets summoned to do some menial task, and you hear someone (I presume it was Emily because she was getting a lot of face time this episode) yell "INTERN!" at which I yelled back "HIS NAME IS TIM, BITCH!"
Next, he's hiding out in the wild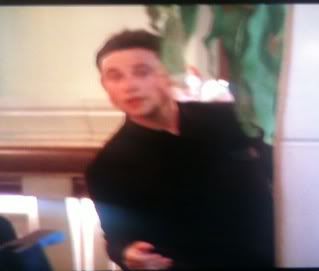 and gets yelled at for bringing a banana leaf plant in place of a palm tree. Because we're suppose to know the difference? He's an fashion intern, not a horticulturist. Cut the guy some slack.
I did notice that in each instance of being summoned, he did some dramatic Phil of the Future double take (which my cell phone screen caps really fail to capture) which only made him more adorable. Sigh.
Blanyway, Stephanie V is an idiot, and there's really no two ways around that. I'm getting powerful tired of watching her not know how to use a spreadsheet, then apologize profusely. While it's great that she's being accountable for her mistakes, it's not so great that everything she's asked to do ends up wrong. At one point, she tells the camera "Everyone likes me except for Emily," which a) is not true, because I certainly don't like you and that, my children, is why we don't use blanket statements and b) it's not that Emily doesn't like you, it's that you are legitimately handicapable when it comes to performing your job correctly and I'd be fed up with you too. There are only so many ways that I can tell you Steph V doesn't know her ass from her elbow, so I'm just going to end it there and pray that she is one of the two people Bravo promised me will be getting fired next week.
Like I said earlier, Emily got a lot of face time this episode, which was a nice change of pace, though she's rocking a severe bang in alot of her confessionals that for some reason makes me think of that movie Orphan. [Editor's note: OH HEY GUYS! CHECK OUT MY NEW BLUNT-CUT BANGS I GOT LAST FRIDAY! Oh...Awkward...] Regardless, Emily was handling the Nicolas Petrou show (more on that wackness in a bit), and this made me realize she is literally a giantess. Or everyone else is around her is a Lilliputian. Regardless, she is one tall glass of bitch. And aside from handling her scandal at the Petrou show, she really just bitched out Steph V all episode. I mean, more power to her. One thing though that I cannot get behind, was this outfit: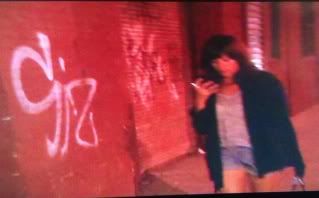 Something about the semi-homemade jean shorts made me vaguely nauseous. Or maybe it was her walking home in the dead of night through graffitied streets yammering away on speakerphone. If she had passed under my window, she'd have gotten a bottle of Jack Daniels straight to the back of the head. (Lies, I'd never waste liquor like that.) I think she was complaining about how she has no personal time because of her job, but then she walked into her ballin' apartment in Williamsburg and any shred of sympathy I felt for the girl took a nosedive off of her riverside view balcony.

Oh fun fact: Ava is going to school! So that's cute. Also, Kelly and Ava went for a little stroll around the neighborhood and ended up on the It's a Small World ride at Disney when they ran into their old dog on the streets of Tribeca. Long story short, Kell gave their dog, Cocoa, to their nanny's daughter on Staten Island and two lesbian painters who live 4 blocks away from Kelly later adopted it. And Cocoa was owned by Kelly, who was in the Hills with Lauren Conrad, who played herself in Epic Movie with Crispin Glover, who was in Charlie's Angels: Full Throttle with Demi Moore, who was in A Few Good Men with Kevin Bacon.
It's time for fashion.
The Nicolas Petrou show was, in a word, bizarre. According to the designer everything is super wearable...if you're a ninja trying to blend into a Magic Eye art exhibit. His collection consisted of patterned body condoms...oh and there were clothes involved too, if you could take your eyes off the Jabbawockeez costuming for a hot minute. Kelly seemed to like it...or at least she liked the models. For sers, Kelly had a 2 minute monologue about how it's so unfair that she's a 45-year-old troll and has to work with these 19-year-old skater boy models. I could not for the life of me work in a parody to Avril Lavigne's Sk8r Boi in which Kelly plays a prominent role, but if you can, feel free to leave it in the comments. [Editor's note: ON IT:
He was a boy
She's Kell Cutrone
Can I make it any more obvious?
His balls haven't dropped
She likes statutory prey
What more can I say?
He wanted her
To take off his mask
An eyelash was all up in that ocular-ass
She picked it out
And zipped him back up
Looks like Mama Wolf has another young pup
He was a Sk8r Boi
She said come back later, boy
I'm gonna clean my caftans on your washboard gut
He was like, "K, sounds good bro.
Wear something from the Agent Provocateur show,"
This song is getting long
I should have put it behind an HTML cut
God damnit. That was considerably harder than I thought it would be. Back to Chris.]
Anywhoodle, after the show the designer got all snarky with Emily about Women's Wear Daily and she mentally backhanded him for being flippant. Then she stalked out of the showroom in either: J-Woww inspired heavily bleached jeans OR B.Spear's inspired lace applique jeans. Either way, ugly.
The second fashion show was the Agent Provocateur show, which should have made this episode NC-17. During casting, K.Cut tells the models if they have a problem with "nipples, boobies, bras and ass" that they better pack up and go home now. SHE WAS NOT KIDDING. Agent Provocateur's fashion show was just barely considered decent. My personal favorite outfit, which I didn't take a picture of because I wasn't sure how I'd explain it to my bf if he saw it on my phone, was a white "bra" that basically just cupped the models boobs complete with white pasties covering the nipples. I think there may have been a string attaching the pasties? I'm not 100% sure. I was equal parts transfixed and aroused. Also, you know you watch too much television when you recognize two of the models in casting as previous contestants on ANTM (Lisa from cycle 9 and Megg from cycle 7). I embarrass even myself.
But no episode of Kell would be complete without drama!
And was there ever dram. This episode was all about the recession in the fashion industry, as both Nicolas Petrou and the Agent Provocateur show were on a shoestring budget. Everyone's trying to cut costs here and there, and Petrou went the route of stiffing People's Rev their money, claiming that the show was bungled. OH. SNAP. Kelly decides to keep his images from his show AND she updated her facebook status to let everyone know what an a-hole he is. So you know this means war. Or court. Or both?

As far as Agent Provocateur is concerned, I don't know how it happened (because I was exchanging giggly text message with Meg about Tim) but PR lost the original location for the show. So they scrambled last minute and wound up at the SoHo Grant hotel. But of course the rep for AP was in desperate need of a Xanax during the planning for the show. And "everything was wrong" and "no one cared about how the show would look". The last person who can be complaining about how something looks is a woman rocking a stringy mullet and cargo pants. Once PR tranq'd the AP rep, all was well and good and Tim the Intern hid behind a banana leaf planet getting a boner.
DVR buster! My God, this was the most worthless 30 seconds of time every recorded to television. Emily got fed up with some girl smacking her gum. So the girl went downstairs! Isn't that wacky?! However, it did give us this gift: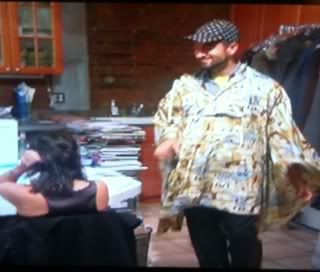 Hint: That poncho better be under my Christmas tree this year.

SO. Next week, two people are getting fired. And my money is on Steph V. Christ, it had better be her and not two random interns. And it had definitely not be Tim. In any event, thanks for reading!