It's Friday and how excited am I?

So

excited. Because it's time for America's favorite fictional holiday...
T.G.I. Hagman
!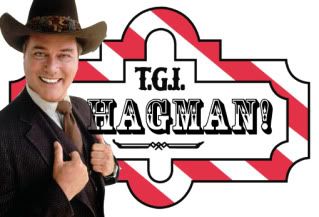 As of 9:25am on April 2, 2010, Larry Hagman is...
alive!
And
kickin'
, I'd like to think.
I'm also pretty psyched it's Friday because it's time to debut our new weekly advice column—Queer Abby!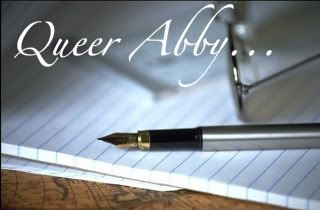 Queer Abby,

How do I get my boyfriend to respect me more when we are fighting?

Charlie R
That doesn't give me a lot of context, but you should definitely start by asking yourself the following:

1) Does he respect me when we're not fighting? and
2) Are we fighting more than a healthy couple should?

If the answers are no and yes (respectively), that kind of nullifies your question. But, I will assume that's not the case for the sake of responding to what you asked.

First, make sure you are approaching him in a respectable way. If you are too worked up, angry or emotional to make your case in a calm, rational and mature way, then he's more likely to respond to how you're raising the issue, rather than what you're actually saying. So if that's the case, walk away from it until you regain your composure, get your thoughts together and can approach him knowing what you're upset about and what you want him to do about it. Focus on the issue at hand-- not a list of everything that bothers you about him and not stuff that happened two months or 2 years ago (unless it's immediately relevant). You also need to be at a place where you're truly willing to listen to his perspective, try to understand it, and demonstrate that you're doing so. That's how to hold up your end of the deal and earn respect.

Now, if you are doing everything above, or at least giving it a good faith effort, and he's still not respecting you, end the conversation. Explain (as calmly as possible) that you don't feel like you're getting the respect you deserve; you care about him and the relationship a lot, so you really want to resolve this, but the conversation can't possibly be productive unless he's willing to respect you and take what you have to say seriously. Then don't talk to him until he demonstrates that he's willing and able to do it better.

If he's had a little time and is still unwilling to try and meet you half way, then you might just have your answer to question #1, and if he's unable to (no matter the reason), then I'm guessing I know the answer to #2- or at least what it will be before long. So, the bottom line is this: do it right, demand respect for doing so and cut bait and run if you don't get it.
My two cents? I say dump him. But then again I'm a giant fucking quitter.
Queer Abby,




Do you think for a girl to make the first move?!? There is this guy in the office that I think is so freaking hott, and he makes me soo freaking nervous. I told a mutual friend what I think, and he told me that if I asked him out, he would say yes. The only thing is that I don't have balls!! No balls to do it. I get nervous when he is at the water fountain and I stand up "to go do something". Well, some say the guy should ask, and I have some friends who say just see what they are doing for happy hour. Please help a sista out.




Thanks and love you already,

Jessica



Dear Jessica:

I love you already too; that's why I'm going to try to be as gentle as possible in reminding you that you're not in high school and it is the 21rst century.

Yes, women can totally ask men out. So, if you want to go on a date with him, grow some ovaries and just do it. BUT, if you do ask him out, be prepared to pay- with equal rights, we also get equal responsibilities…small price to pay.

Personally, I would split the difference. If you have friends at the office or nearby that you would/do go to happy hour with, plan one and invite him and his friends along. If he makes you that nervous, and you know almost nothing about him besides the fact that he's "so freaking hott" (sic), then a first date with no distractions will likely be super awkward. Try something more social first so you can see if the two of you click. That way, if there is chemistry, you have more of an entrée into asking him out—and maybe he will even pull the trigger first.
I say put a note on his desk that says, "Here's a tip—call me!" with your number. It worked for me. Oh wait...
My dearest Queer Abby,




I like the sound of my own voice and am generally a hilarious person. However, sometimes I worry that I talk too much, and I'm one of those annoying people who won't shut up but nobody in my life has the heart to say anything. I'm in grad school right now, and I get especially self-conscious about this in the classroom when we're having a discussion and I keep coming up with totally ingenious stuff to say. So. My question is: how can I tell if I annoy people with how much I talk?




Thanks a bazill!

E.M.W.

Dear E.M.W.:
Yes. (See how ingenious and hilarious brevity can be?)
Xoxo,
Abby
Sometimes a photo is the best way to express my emotions: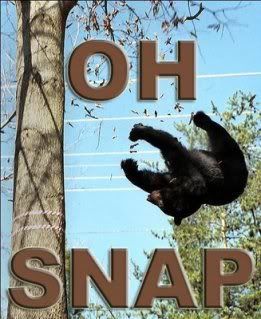 Queer Abby,




I need a husband. Seriously. Now that it's legal in DC for us fags to get married, I really want to propose to anyone I'm casually dating/sleeping with/gchatting. So I meet this guy - let's call him Peter. I met Peter a few months ago at a super bowl party and he told me I looked really bored (at super bowl party? duh) and then he proceeded to ask me out. Apparently boring is a characteristic he is looking for in a mate. Anyways we go out a few times and everything is going fine. Good body, somewhat interesting, breathing human being; he actually works for a non-profit, wears glasses and seems to be a pretty typical guy. Then he invited me over to his apartment for dinner. I step into his bedroom and hanging above his bed is a FRAMED arrangement of about 20 colorful, unopened condoms placed like a checker-board, which he called "art".




This is a deal breaker, no? How can I help to not be tasteless and/or should I continue dating him and just fuck so much that we are forced to break open the condom frame and use the "artistic" condoms?




With Love,

Matt B
Dear Matt B:
As a paid advocate for sexual and reproductive health and rights, I'm kind of glad this guy takes safe sex so seriously. As a 'mo with good taste, I can see the cause for concern...
Let's talk about you though. I can't help but notice you prefaced your whole question with how bad you want to get married, but ended with 'is a bad piece of 'art' a deal breaker with an otherwise decent guy'. So basically I'm calling your desire to get married (in the near future) into question. Sounds like you're not looking for Mr. Right, but Mr. Right Now. Don't get me wrong, there's absolutely nothing wrong with that, but please know it and own it.
That said, if Peter isn't blessed with artistic taste, it's going to take some serious time to fix him. And even then, you still might not ever see eye-to-eye on the subject. Ergot, yes, I think the fire hydrant approach is totally your best bet. Get to work.
I couldn't have said it better myself. Got a question for Queer Abby? Shoot her an email at QueerAbby@2birds1blog.com.
Welp! That's going to do it for all of us here at 2b1b this week. As per always, thank you so much for reading, supporting, spreading the word, twittering, joining our Facebook page, emailing and all the wonderful things you do. Have a great weekend and we'll see you back here bright and early Monday morning! Buh-bye.