- There are four seasons worth of

Sweet Valley High

episodes on You Tube. Word. The fuck. Up.
- I was out to dinner with my parents the other night, discussing the social impact of the classic 1982 film

Grease 2

, as you do, and mentioned how

smokin

' hot I find Max

Caulfield

aka Michael

Carrington

:
I was then informed by my parents of the following:
1.) Maxwell

Caulfield

was on

Dynasty

as playboy Miles Colby (who later went on to marry Fallon

Carrington

aka the namesake of my future unborn daughter) in the 1987 spin-off The

Colbys

.

Full.

Circle.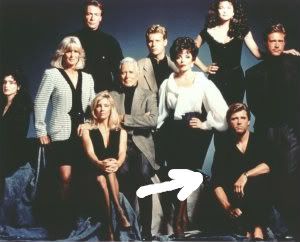 2.) Maxwell

Caulfield

is married to Juliette Mills aka TABITHA THE WITCH FROM PASSIONS.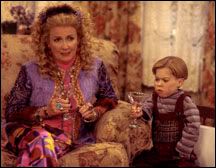 =


The fuck?!

3.) Juliette Mills aka Tabitha the Witch from Passions IS

HAYLIE

MILLS' SISTER.
My mind is thoroughly blown.
- Speaking of Maxwell

Caulfield

, this is quite possibly the most homosexual photograph in

existence

:
So there's that.
- Praying

mantids

can eat small

vertebrates

such as tree frogs, small lizards and mice. That's

fuckin

' insane to me. That means in the battle of praying mantis v. mouse, the praying mantis would win.

Insane.

This keeps me up at night, and I am fully aware of how pathetic that is.
- Sometimes I feel completely cut off from the world because I work alone (like any good superhero) and given my anxious tendencies, I don't watch the news or read the newspaper. I figure if something major happens, someone will eventually tell me or I'll read about it on

Gawker

. Last night my sister was over and mentioned "the airplane crash." My reaction: what crash? The look of pure horror and judgement in her eyes was

astounding

. She asked if I was being serious. I said yes. She asked again, but not in a buddy-buddy, oh girl,

you so crazy!

kind of way, but more in a

genuinely

concerned

about my

well being

kind of way. Oh,

I'm

sorry! I watch

Dynasty

all day, what do you expect? It's perpetually 1981 in my world. The most newsworthy thing in my mind is Reagan getting shot.
So yes, I'm pathetic and slow and way late on the ball and blah blah blah, but holy shit—the Air France crash:

WTF

?! This is blowing my mind. Not only is it completely disturbing because the plane

vanished

, but they had like an hour of turbulence in the air leading up to the crash. That gives me the chills and makes me want to vomit all at once. AND THERE WAS AN 11-YEAR OLD BOY ON BOARD FLYING ALONE BACK TO BOARDING SCHOOL! I can't stop picturing him as Harry Potter! It's

breakin

' my heart! What do you think those people were thinking during that final hour? And they say the plane went down 1-3 miles under sea. MILES. Like that timed thing I didn't run in middle school. MILES. This is blowing my mind in the worst way possible. ALSO! The plane hit a wall of thunderstorms? Now I haven't flown in a year or so, but don't planes have radar? Alex's

iphone

has radar for Christs' sake. It was able to tell us how long we had to stay outside at happy hour until the rain hit the other night, I'm sure it could tell when you're about to hit a wall of thunderstorms. You know, so you don't

plummet miles into the sea.




...'Eh...this is why I live in 1981. I'll be watching

Sweet Valley High

and gently rocking if you need me.