UGHHHHHHHHHHHH AND AN INCONVENIENCED SIGH.
Welp. Here I am. Back in this dump show of an office after seven glorious days of being curled up in my bed with nary a worry or pair of pants in sight for miles. I knew the dream couldn't last forever, but that doesn't mean I'm not bitter about it.
HOWEVER! I have three items of good news:
1.) It's
T.G.I. Hagman
. And how bad can life really be when it's T.G.I.-fuckin'-Hagman, am I right or
am I right??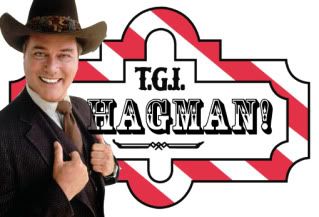 As of 1:16pm on Friday, February 12, 2010, Larry Hagman is...............
alive!
God is good all of the time, and all of the time, God is
good.
2.) I got the following email the other day from 2b reader Aline:

Hi Meg,
I was reading gawker, and it said something about omegle.com. I'm not usually up for chatting with strangers, but I was bored, and 'tis the snowpocalypse (read: there is nothing better to do), so why not?

Anyway, the first person signed in, said "I'm sad" and left.

The second person, signed in and only said "2birds1blog.com. Read it." and then they left (Convo log below). I think that you should get all of your readers to do that. Hi-Larious. Well that's it. I'm headed out into the snow to go to CVS :( Hope you get to feeling better!

Cheers,
Aline

___


You're now chatting with a random stranger. Say hi!

You:

Really? I already do-isn't it funny?



Your conversational partner has disconnected.
I. LOVE. IT. Mostly because that stranger wasn't me and it makes me excited when people besides myself pimp out the blog like a small Mexican boy with chicle on the 'nets. So to whoever is going on ohmegle.com to promote the blog, I have a gift for you. And that gift is in my pants and rhymes with "schot schmex."
3.) According to an unconfirmed rumor circulating via Laura, Luke and The Tranny from
More to Love
BROKE UP!!!!!1
Initially I was heart-broken when I heard this because if two people could ever make it in this crazy, mixed-up world, it was them.
BUT!
This does open the door for a
More to Love 2
. And you know I'm crossing my fingers that it's called,
More to Love 2: Back for Seconds.
So there. Life is good. And as bitter as I am that I have to be back in this shanty town, I
am
slightly psyched to not be holed up in my apartment anymore. Cabin
Fever was starting to set in big time and things were getting..."unique." But slowly, DC is digging itself out it's snow coffin and getting back to real life (until next week's Snowpocalypse, that is.) I thought instead of giving you a drinking game this week, I'd be helpful and share with all of you cracked-out snowy Washingtonians a few tips I've found helpful for assimilating back into society. Enjoy.
5 Tips For Assimilating Back Into Society After The Snowpocalypse

1.) Listening in on other people's conversions is not appropriate because they are not on TV.
Surprising! I know. Halfway through dinner at James Hoban's the other night,
Helena
realized she had zoned out and was awkwardly staring at the people sitting next to us and blatantly listening to their conversation. Apparently in a post-Snowpocalypto society, this is not "appropriate," as other people do not exist solely for our own entertainment. Don't worry, I'm having trouble wrapping my head around it too, but together we can get through this.
2.) A two year old box of Zattaran's Dirty Rice, a bag of confectioner's sugar and a Black and Mild does not a meal make.
Nothing makes you think outside of the culinary box like being confined to the contents of your own dusty kitchen for days on end. I never have food in my apartment to begin with, so this past week has been particularly interesting for me. One time Anna unexpectedly crashed at my place for a weekend in college and she compared the experience to living in Communist Russia. While I was working on a paper one night, she started to complain that she was starving. I promised we'd order food as soon as I was done, but hours later when I was still writing and she was still starving, she ventured into my kitchen to see what she could find. Five minutes later, she returned and put the following on my desk: a box of Goldfish crackers, a jar of cloves and AN single Busch Light. "This is literally all you have in your kitchen," she said weakly. With a shaking little hand, she slowly put the jar of cloves on top of the box of Goldfish, cracked open the Busch Light, pointed to it and asked, ".....Cook it for me?" Shortly after, I gave in and we ordered out.
In the past week, I have consumed every single Goldfish cracker and every random Holiday spice hidden in my kitchen. I ate vintage pizza from 1994. I drank a bottle of Manischewitz wine I found behind a bunch of DVD's, covered in an inch of dust. I don't remember what "vegetables" taste like.
I'm genuinely nervous about the weight I'm going to gain this weekend because I don't know how to handle all of the food options that are now open to me. I hoofed it to Baja Fresh yesterday, patiently waited in line and proceeded to ask them to take the contents of their kitchen, put it in one of those sour cream gun dispensers and inject it directly into my stomach. Just because the option was open to me. And they did. And it was wonderful.
3.) Chugging from a half-empty bottle of Captain Morgan's at 11am while wearing loose fitting clothing is called being homeless.

If this were Snowpocalypse: you'd be drunk by now.
4.) Your life is not a Bravo reality TV show, so stop narrating it to the wall when you're on the john.
Something tells me this might only be applicable to me...so I will move on.
5.) Jokes that were funny when stuck in your house and incredibly cracked out might not translate to the real world.
My prime example of this is
Seanvote
.
Over the course of Snowpocalypse, I played a lot of Words With Friends (iphone Srabble app. Username: Meg4lYfe. No big deal.) with Helena's boyfriend, Jonathan. At one point, he was absolutely destroying me. Like, embarrassingly so. I needed to pull out a big gun, but the letters were not on my side. Round after round, I played words like "AN," 'HI" and "AT" while thinking, "If only
SEANVOTE
were a real word, I could turn this fucking game around right here and right now!" Helena then pointed out that that's the benefit of real scrabble: if you're convincing enough,
any

word can be a real word. Thus, we set out to make Seanvote
"happen." We decided Seanvote is a
substitute for the word "shit" and can have both positive and negative connotations. For example, "Dude, that band is the fucking
seanvote
." Or, "Fuck that guy. He's just a worthless pile of
seanvote
." Or, "Oh man, pull over, I gotta take the biggest
seanvote
."
Believe it or not, this was
incredibly
funny to us at the time. So much so that when we met up with Jenna and Laura for drinks last night, we shamelessly continued to substitute it for the word "shit" until it caught on. And I don't know if it was because Jenna and
Laura
were just as cracked out as we were or if it was because there was alcohol involved, but it
totally
did: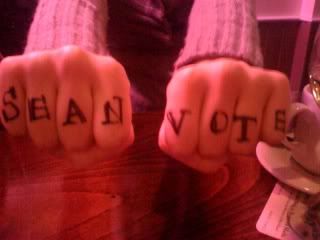 So, really, I amend this tip to:
Jokes that were funny when stuck in your house and cracked out might not translate to the real world. Unless it's the word SEANVOTE. In which case you should totally spread it around like wild fire.
Welp, that's gonna do it for us here this week! WAIT, NEVER MIND. I just checked my email and got this amazing Winter Olympics Drinking Game from 2b reader Veronica, written by her friend Chelsea. And frankly, it's too good not to share. So I bid you adieu and leave you with
Chelsea's Winter Olympics Drinking Game!
As always, thank you so much for reading and spreading the 2b1b word. Hope you don't have a seanvotty weekend
(bahaha...
see what I did there?!)
and we'll see you back here Monday morning when hopefully I'm less cracked out, have done something more blog-worthy than napped pantsless and have regained my sense of humor. Buh-bye!
Rules:
- Drink when a figure skater is shown
- Drink twice if it's Johnny Weir
- Finish your drink if he's referred to as "controversial"
- Finish your drink whenever someone triumphs over adversity
- Drink when "the native people" perform a traditional dance
- Drink when someone mentions the 1980 USA Olympic Hockey Team
- Drink twice if a member of the 1980 USA Olympic Hockey Team is shown
- Drink when you see a mountie
- Drink when someone says "aboot"
- Drink when someone mentions the Jamaican Bobsled Team
- Finish your drink if the Jamaican Bobsled Team is there
- Finish your drink when the country you are representing enters the arena
- Drink when someone says "curling"
- Drink when someone says "luge"
- Drink when someone is referred to as a "gold medal favorite"
- Drink whenever someone says, "I'm just happy to be here"
- Do a shot if someone is "not expected to place well but just here for the experience,"(see above re: Jamaican Bobsled Team)
- Do a shot when the US Team enters the arena
- Do a shot when the torch is lit